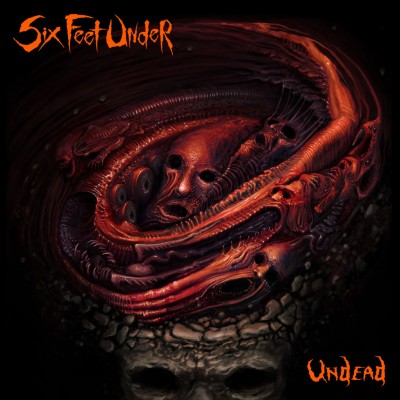 Today Metal Hammer Germany is hosting an exclusive premiere of Frozen At the Moment of Death, the third official single, from death metal tyrants SIX FEET UNDER. The track comes off the band's soon-to-be released Undead full-length which is scheduled for a European release on May 18th/21st, 2012 through Metal Blade Records.
Offering up 12 tracks of uncompromising, sonic brutality, the record was produced by Mark Lewis (Deicide, Devildriver) and mixed by Jason Suecof (Whitechapel, Job For A Cowboy), at Audio Hammer Studios in Sanford, Florida.
Commented vocalist Chris Barnes: "Creating an album is a lot of work and a lot of focus, but we didn't really have too many hiccups in the recording. It went really smooth, and it was pretty much the most effortless album we've ever tracked. I had a great, great time working on this album; it was so much fun because everything seemed so new again."
Head over to Metal Hammer to check out Frozen At The Moment Of Death at THIS LOCATION.
A couple weeks ago Guitar World hosted the exclusive premiere of 18 Days, the second official single from the death metal monarchs. If you missed it, you still have a chance to crush your ear drums at THIS LOCATION.
Please make also sure to check out the SFU landing page at THIS LOCATION featuring the first single Formaldehyde, a video interview with SIX FEET UNDER front man/death metal veteran Chris Barnes as conducted by Metal Blade CEO Brian Slagel and all the pre-order bundles available.
In conjunction with the album release SIX FEET UNDER will return to Europe in August to play some exclusive festival gigs as well as selected club shows. Support comes from SFU labelmates DEW-SCENTED who will release their new album Icarus this July.
Undead Tour 2012
SIX FEET UNDER + DEW-SCENTED + t.b.a.
11/08/12 – CZ – Jaromer – Brutal Assault Festival *
12/08/12 – DE – Berlin – Postbahnhof
13/08/12 – DE – München – Backstage
14/08/12 – CH – Pratteln – Galerie
15/08/12 – DE – Essen – Turock
16/08/12 – NL – Kerkrade – Rock Temple
17/08/12 – DE – Dinkelsbühl – Summer Breeze *
18/08/12 – DE – Hamburg – Grünspan
*without DEW-SCENTED
SIX FEET UNDER:
Chris Barnes – vocals
Steve Swanson – guitars
Rob Arnold – guitars
Jeff Hughell – bass
Kevin Talley – drums
http://www.sfu420.com
http://www.facebook.com/sixfeetunder
http://twitter.com/sixfeetofficial
http://www.youtube.com/sixfeetunderr
http://www.myspace.com/sixfeetunder
http://metalblade.com/sixfeetunder
Comments
comments